Zenmuse X5S
$2,999.00

$2,999.00
Tax included.
Shipping
calculated at checkout.
---
---
Understanding the rules surrounding drone use is important to ensure the safety of all airspace users. Here at Fly the Farm, we are advocates for ensuring that drone users understand how to fly safely while still having fun. You can find out more via the CASA "Know your Drone" site. Don't forget to subscribe to their e-news to be kept up to date on changes that occur from time to time.
Equipped with an uprated Micro 4/3 sensor, the Zenmuse X5S has a dynamic range of 12.8 stops with a much improved signal to noise ratioand color sensitivity than the X5R. It supports up to eight standard M4/3 lenses (including zoom lenses) with focal lengths ranging from 9mm-45mm(equivalent to 18mm-90mm on a 35mm camera), allowing more creative flexibility. The new CineCore 2.0 image processing system on the Inspire 2makes the Zenmuse X5S capable of capturing 5.2K 30fps CinemaDNG video and Apple ProRes video as well as 4K 60fps using H.264 and 4K 30fpsusing H.265 (both at 100Mbps). Continuous DNG burst shooting at 20fps with 20.8MP images is also supported. The Zenmuse X5S was designedto keep pace with the rigors of high-end professional aerial imaging.
INSPIRE 2 AERIAL IMAGING
Compared with the Inspire 1, the Inspire 2 utilizes an innovative structure that separates the CineCore 2.0 image processing system from the camera and places it inside the aircraft. This means that the sensor and optical system are detachable and easily connected using a newly designed quick-release connector. Designing the camera system in this way effectively protects the sensor from magnetic interference originating from the processor. It also allows a range of lightweight camera units to be connected as required by different scenes. The uprated M4/3 sensor — and support for interchangeable lenses — allows the Zenmuse X5S to capture high resolution images of incredibly high quality, when combined with the extraordinary CineCore 2.0 image processing system.
IMPROVED MICRO 4/3 SENSOR
The onboard Micro 4/3 sensor has been upgraded, significantly improving image quality. With a pixel size of 3.4μm, this 20.8-megapixel sensor captures more detail than the previous sensor. It has 12.8 stops of dynamic range as well as a better signal to noise ratio and color sensitivity than the X5R, allowing it to create clear, low noise images in low light environments.
ARRAY OF COMPATIBLE LENSES
Since it uses a standard Micro 4/3 mount, the Zenmuse X5S now supports up to eight professional lenses* with focal lengths ranging from 9mm-45mm (equivalent to 18mm-90mm on a 35mm camera), providing more creative control over the final look of a shot.
DJI MFT 15mm/1.7 ASPH (With Balancing Ring and Lens Hood)
Panasonic Lumix 15mm/1.7 (With Balancing Ring and Lens Hood)
Panasonic Lumix 14-42mm/3.5-5.6 HD
Olympus M.Zuiko 12mm/2.0 (With Balancing Ring)
Olympus M.Zuiko 17mm/1.8 (With Balancing Ring)
Olympus M.Zuiko 25mm/1.8
Olympus M.Zuiko 45mm/1.8
Olympus M.Zuiko 9-18mm/4.0-5.6
HOLLYWOOD - GRADE VIDEO
Using CineCore 2.0, the Zenmuse X5S records video at a maximum resolution of 5.2K/30fps in CinemaDNG 12bit1, 5.2K 30fps Apple ProRes 422 HQ and 4K 30fps Apple ProRes 4444 XQ (no alpha)2. Additional recording options include video in 4K/60fps using H.264 or oversampling video in 4K/30fps using H.264/H.265, both with a bitrate of 100Mbps.1 2Additional licenses required
FAST EFFICIENT WORK FLOWS
The DJI CINESSD card (PCIe3.0 NVMe SSD support) and a highly optimized FAT32/exFAT file system, allows Zenmuse X5Sfootage to be transferred directly through the DJI CINESSD STATION card reader to a computer at high speeds without anyadditional software. Footage also supports the DIT standard. CinemaDNG or Apple ProRes workflows can be used for post-processing.
LOSSLESS IN-VIDEO SINGLE AND BURST PHOTO CAPTURE
Using only the Micro SD card, 20.8MP stills can be captured at 14fps in Burst Mode in JPEG+DNG. Using the DJI CINESSD opens up 20fps continuous DNG Burst Mode with a maximum image resolution of 20.8 megapixels. Stills can also be taken during video recording without interruption.
ENHANCED CAMERA STABILIZATION
Stabilizing the Zenmuse X5S is a highly optimized 3-axis gimbal with pinpoint-precise motor rotation with a control accuracy of ±0.01° powered by a dedicated processor.Rather than rely on electrical slip rings — as is common with many gimbals — the Zenmuse X5S uses a unique mechanically limited design and concealed wires to ensuremore stable data transmission and greater durability. Vibration is eliminated using three damping balls and a lightweight damping board, creating seamlessly smooth video.360° rotation remains possible through gimbal rotation and smooth aircraft yaw. Stable, smooth footage1 can be captured even when using a 90mm2 lens.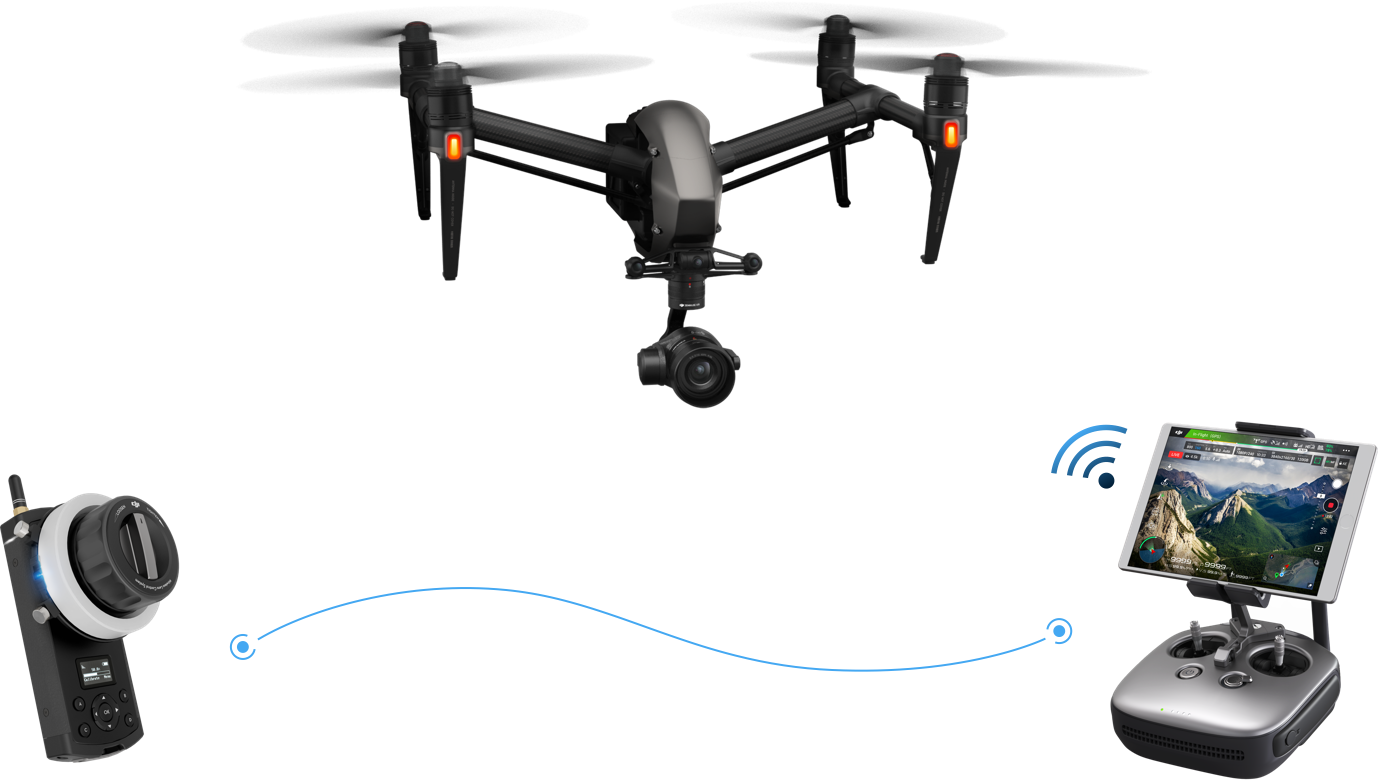 LONG RANGE CAMERA AND FOCUS CONTROL
Take control over every camera setting from afar, including focus, aperture, and format, directly in the DJI GO app.Precision control also extends to focus, with DJI GO and the optional DJI Focus, offering focus control across the entire transmission range.Using DJI Focus, no additional cables or motors are needed and new Lightbridge technology sends all signals as far as 4.3mi (7km) away*.
* Unobstructed, free of interference, when FCC compliant.